It's not always easy to navigate the often-choppy waters of the real estate market. What's true for the national market isn't always true for Arlington - nor are they mutually exclusive.
We have pulled together Arlington homes sales data from the past three years to provide a better idea of where real estate has been - and where it might be going.


As you can see from the chart below, Arlington single family home sales have increased in both volume and price over the past three years. Same for multi-families, although condo values and volume are a little more variable.
2010-2012 Arlington Closed Transactions*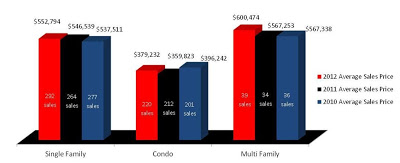 *Data Source: Multiple Listing Service


Even with average home sale prices rising, the price a buyer pays for a home today doesn't necessarily represent what it will cost in the long run because interest rates are at historic lows. For example, in 1981 interest rates were at 18.5%, and while home prices may have been lower at that time, the relative cost was much higher.


Take a look at the chart below and you'll see the dramatic drop in interest rates from 1980 to today. You can also see corresponding interest rates for the past three years (based on a 30 year fixed mortgage):
| | |
| --- | --- |
| Timeframe | Rate |
| December 2010 | |
| December 2011 | |
| December 2012 | |
In general, from 2010 through 2012 we have seen 1) rising home values, 2) declining interest rates. Home sellers benefit from this inverse relationship because they can get a better price for their home than in previous years (remember 2008?). Home buyers have a great opportunity to tap into low interest rates and buy a home that, theoretically, will continue to appreciate in value.
Another factor impacting the local housing market is the
rent vs. buy decision
. The percentage of people who rent in Arlington hovers at 30%, just below the statewide average (see below). There are plenty of instances when renting makes sense, but when property appreciation is on the upswing as it is in Arlington, there is an opportunity to create more wealth through owning rather than renting. With rents skyrocketing and interest rates so low, I expect the % of renters to drop somewhat as more people make the jump from renting to homeownership.




| | |
| --- | --- |
| # of houses and condos | |
| # of renter-occupied apartments | |
| % of renters in Arlington | 30% |
| % of renters statewide | 37% |
So what does all of this mean? To sum up, the housing trend that defined the Arlington 2012 housing market is the trend that never goes out of style: Location, location, location. Arlington remains one of the most popular towns in the Boston-metro area. Good schools, public transportation and a strong community kept Arlington home values strong last year.
And what trend will define the Arlington 2013 housing market? Movement. Like a snowball picking up speed, the Arlington housing market is poised to take off as the pool of sidelined buyers and sellers enter the market. Low interest rates, high rents and increasing home values are already motivating people to act.
If you would like to discuss Arlington real estate trends in greater depth, please feel free to contact me directly.