Looking for a local, fun way to celebrate Father's Day? Try renting a kayak or canoe with Dad on Spy Pond this weekend! Rentals begin Saturday, 6/14.
Of course there's always Father's Day Brunch at Tryst, the driving range at Stone Meadow, or just let him kick back and enjoy watching the US Open Golf, World Cup Soccer or the Red Sox. There are plenty of ways to show Dad that he is appreciated.
We have two great new listings this week, one in Waltham and one in Arlington. Put them on your list of must-see homes and enjoy the weekend!
Cute as can be and more spacious than it looks! This meticulous three bedroom home is on a private street near Bentley University and the commuter rail. It has polished hardwood flooring and double pane energy efficient windows throughout. Amenities galore include: master bedroom with skylight, living room with recessed ceiling lighting, and a beautiful bay window including special designed window features. There are gorgeous designer lighting fixtures in living room and dining room. Kitchen has beautiful mat- finished stainless steel appliances: large refrigerator with freezer, sink, disposal, faucet fixtures, wall oven, wall microwave and stove exhaust hood. Counter tops are polished granite marble and there is plenty of cabinet space and closet space. Full baths have polished marble floors, beautiful porcelain sinks with lots of draws and cabinets. Finished basement has polished marble flooring. Separately controlled heat pump wall mounted ACs in bedrooms and living room. Move right in! (MLS# 71696955)
Listed: $415,000
What's Nearby: Waltham Shops and restaurants, Bentley University, public transportation, Commuter Rail.
15 Summer Hill Circle, Unit 2 Arlington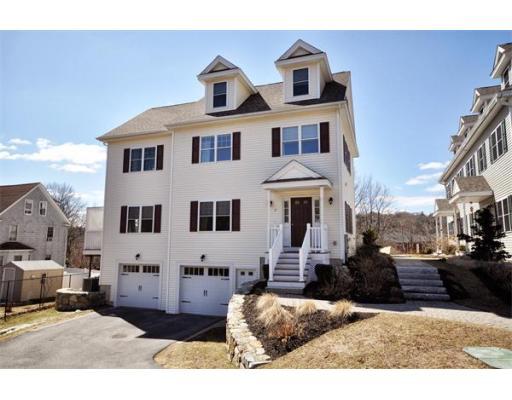 Looking for something different with the WOW factor? This exquisite townhouse is for you. Built in 2011 and located on the Minuteman Bikeway, this great home features an open concept first floor. Enjoy the fireplace in the family room, great dining room, spacious kitchen and living room, 1/2 bath and welcoming foyer. The kitchen is appointed with oversized cabinets, a cooktop, wall oven, built in microwave and a large island that is great for cooking preparation, or to use as entertaining space. The second floor has two bedrooms, a main bath, a great laundry room and master suite. The master suite features a walk in closet and master bath with tile shower, double sinks and a water closet. The 3rd floor is finished and can be used as flexible space. There is a two-car tandem garage with a mud room on the lower level. Plenty of storage space, exclusive use yard space, deck and great access make this a wonderful place to call home! (MLS# 71654685)
Listed: $729,000 (Price changed)
What's Nearby: Arlington Center and Arlington Heights shops and restaurants, public transportation, Minuteman Bikeway, Mass. Ave.
Arlington Real Estate
SINGLE FAMILY
| | | | | | |
| --- | --- | --- | --- | --- | --- |
| Address | Rooms | Bed | Bath | Style | Price |
| 341 Park Ave. | 7 | 3 | 1f 1h | Colonial | $625,000 |
| 56 George St. | 7 | 7 | 3f | Cape | $649,000 |
| 96 Churchill Ave. | 10 | 4 | 3f | Colonial | $1,125,000 |
| 87 Alpine St. | 5 | 3 | 1f | Other | $399,000 |
| 2007 Symmes Circle U:2007 | 6 | 2 | 1f 1h | Multi-level | $589,000 |
| 2008 Symmes Circle U:2008 | 6 | 2f | 1h | Multi-level | $599,000 |
| 11 Wellington St | 10 | 2f | 1h | Victorian | $1,085,000 |
| 86 Blossom St | 11 | 5 | 2f | Colonial | $629,000 |
| 75 Old Mystic Street | 11 | 4 | 2f 2h | Contemporary | $1,190,000 |
| 15 Sleepy Hollow Ln | 9 | 4 | 2f 1h | Raised Ranch | $675,000 |
| 94 George Street | 8 | 3 | 1f 1h | Colonia | $595,000 |
CONDO
| | | | | | |
| --- | --- | --- | --- | --- | --- |
| Address | Rooms | Bed | Bath | Style | Price |
| 118 Florence Ave. U:118 | 4 | 2 | 1f | 2/3 Family | $429,617 |
| 2006 Symmes Circle U:2006 | 6 | 2 | 2f 1h | Townhouse | $589,000 |
| 2007 Symmes Circle U:2007 | 6 | 2 | 2f 1h | Townhouse | $589,000 |
| 2008 Symmes Circle U:2008 | 6 | 2 | 2f 1h | Townhouse | $599,000 |
| 2010 Symmes Circle U:2010 | 6 | 2 | 2f 1h | Townhouse | $589,000 |
| 13 Quincy St. U:13 | 6 | 3 | 1f | 2/3 Famiy | $435,000 |
| 109-111 Milton St. U:1 | 5 | 2 | 1f | 2/3 Family | $419,000 |
| 89 Newland Rd. U:89 | 7 | 4 | 2f 1h | Townhouse | $629,000 |