We're not your typical real estate team, and this isn't your typical list! In case you missed it, check out our previous posts (1-6) of the top things to do in Arlington and see if you agree! Now here's #7, #8 and #9 for this week...
#ArlingtonMA #Top20
#7 Get Cultured
Whether you're on a first date or taking a client out to close a deal, knowing how to select a good wine ups your cultural cache. Refine your taste buds with complimentary wine and beer tastings at Menotomy Beer & Wine on Fridays and Saturday's from 4 p.m. -7 p.m.
image via: WikimediaCommons
#8 Get Smart
"Education is what remains after one has forgotten what one has learned in school." - Albert Einstein. Never stop learning! Take an adult education class at Arlington Community Education or Arlington Center for the Arts and learn something new.
image via: WikimediaCommons
#9 Get Lit
Go to the Robbins Library and brush up on your lit(erature). Or just read a newspaper or magazine in the beautiful Reading Room (no one needs to know you're there to read the latest People!). The Reading Room features a fireplace, marble mosaic floor, antique oak wall, marble columns and gold leaf accentuated arches and ceiling.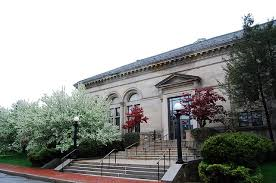 image via: Rachel James