Home buyers, feast your eyes on this: we have FIVE spectacular new listings this weekend. Get your checklist ready because you'll be ticking off your must-haves. Just a few of this week's Spotlight amenities include: walkability, spacious rooms, copious amounts of storage, master suites, walk-in closets, stainless steel appliances, lush landscaping, and much more!
The fall rush is on and it's time to make your move.
One of the most dramatic units at the Cutter School! This 3-level townhouse is absolutely spectacular and is one of a kind. The main level with the living room and dining room is very open with high ceilings and huge windows and parquet floors. The kitchen is slightly elevated, overlooking the dining room and is quite large with an abundance of cabinets and counter space. There are 2-3 bedrooms depending upon if you want a home office. The master bedroom is quite large and offers its own private bath. The other two bedrooms are quite spacious and the third bedroom (or home office) has a private half bath. Close to Mass. Ave. and the bike path, the Cutter School is convenient to everything and is a step above the average condo. Stop by and see for yourself. (MLS #71578898)
Listed: $449,000
What's Nearby: Arlington Center shops and restaurants, Mass. Ave., public transportation, Minuteman Bikeway.
38 Gloucester Street, Arlington
Looking for a well-cared for home that is ready for your personal touch? This home has spacious rooms throughout. There is a gas fireplace in the living room and a dining room with easy access to the kitchen. The kitchen is big enough to accommodate a table and has great access to the deck and yard. There is a pantry and ½ bath, and upstairs has four beds and one bath. Additional storage is found on the third floor, or turn it into your own space. There is garage parking and a driveway. Close to Mass. Ave. and Rt. 2, bike path and Arlington Center, this is a very convenient and walkable location. (MLS #7157874)
Listed: $549,000
What's Nearby: Arlington Center shops and restaurants, Mass. Ave., public transportation, Route 2, Minuteman Bikeway.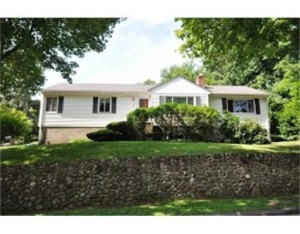 Stunning, move-in ready Ranch located a short distance to Bishop School. Perfectly situated atop a knoll, this home offers lots of natural light, two driveways, a private rear deck, lush landscaping, and beautiful stone walls. The interior is turn-key - just unpack and unwind! From the tastefully remodeled living room with wood burning fireplace to the stunning kitchen, this checks off everything on the list. Featuring three good-size bedrooms, (the master fits a king!) two full baths, a huge family room or space that could be a master complete with in-suite bath, office, and access to the deck. The lower-level can be a play room or another family room. The lower level also features garage access, tons of storage and a laundry room. Conveniently located near the Bishop School, Mystic Lake, Arlington Center, and the Minuteman Bike Path. (MLS #71578996)
Listed: $625,000
What's Nearby: Arlington Center shops and restaurants, Mystic Lake, public transportation, Minuteman Bikeway Bishop School.
This is an absolutely spectacular Contemporary-style Colonial that was beautifully renovated in 2006 from a ranch style to this fabulous home. From the open floor plan on the first floor with a spacious dining room and gourmet kitchen, to the most dramatic master bedroom suite you have seen. The master suite has cathedral ceilings with automatic skylights, a fabulous master bathroom, a huge walk in closet, a private office and separate sitting area with a wood pellet stove and direct access to an oversized, private deck. There are 3 ½ custom baths and a lower level which is perfect as an au pair suite or in-law. The yard is very spacious and beautifully landscaped. (MLS #71578749)
Listed: $739,000
What's Nearby: Arlington Center shops and restaurants, public transportation, Minuteman Bikeway.
Beautiful center entrance colonial built in 2003. This home has over 3000 square feet of living space on three levels. There are 10 rooms with four beds and three full baths. The third floor can be used as master or au-pair suite or another family room with ¾ bath. The huge master suite consists of a sitting area, dressing area, walk-in closet and master bath with shower and jetted tub. The family room w/gas fireplace opens to the kitchen that features custom cabinets and stainless steel appliances. A powder room is discreetly placed in the hallway. There is a tastefully decorated dining room and private study. Magnificent interior details and finishes include moldings, handsome oak floors throughout, central air, garage parking. Front garden, yard, driveway, located near the Winchester Country Club in the Morningside area. (MLS #71578746)
Listed: $995,000
What's Nearby: Arlington Center shops and restaurants, public transportation, Morningside, Winchester Country Club.
SINGLE FAMILY
| | | | | | |
| --- | --- | --- | --- | --- | --- |
| Address | Rooms | Bed | Bath | Style | Price |
| 7 Fremont St. | 6 | 3 | 2f 0h | Cape | $439,999 |
| 197 Sylvia St. | 6 | 4 | 2f 0h | Cape | $474,512 |
| 19 Crescent Hill Ave. | 7 | 2 | 1f 1h | Antique | $499,000 |
| 201 Wachusett Ave. | 7 | 2 | 1f 1h | Cape | $529,000 |
| 38 Gloucester St. | 7 | 3 | 1f 1h | Colonial | $549,000 |
| 261 Lowell St. | 8 | 3 | 1f 1h | Bungalow | $559,000 |
| 19 Sutherland Rd. | 9 | 4 | 2f 0h | Colonial | $585,000 |
| 98 Ridge St. | 8 | 3 | 2f 0h | Ranch | $625,000 |
| 43 Oak Hill Dr. | 7 | 4 | 3f 0h | Colonial | $719,000 |
| 10 Campbell Rd. | 12 | 3 | 3f 1h | Colonial | $739,000 |
| 16 Windmill Ln. | 10 | 4 | 3f 1h | Colonial | $995,000 |
| 49 Brantwood Rd. | 9 | 4 | 2f 0h | Victorian | $1,300,000 |
CONDO
| | | | | | |
| --- | --- | --- | --- | --- | --- |
| Address | Rooms | Bed | Bath | Style | Price |
| 2 Colonial Village U:3 | 2 | 1 | 1f 0h | Detached | $137,500 |
| 15 Walnut Ct. U:15 | 5 | 2 | 2f 1h | Townhouse | $399,900 |
| 1 School St. U:310 | 6 | 3 | 2f 1h | Townhouse | $449,000 |
| 144-2 Lake St. U:Two | 9 | 4 | 2f 0h | 2/3 Family | $449,000 |
| 23 Russell Pl. U:23 | 6 | 3 | 2f 1h | Townhouse | $599,900 |
| 164 Summer St. U:#2 | 7 | 4 | 2f 1h | Townhouse | $689,000 |
MULTI-FAMILY
| | | | | | |
| --- | --- | --- | --- | --- | --- |
| Address | Rooms | Bed | Bath | Style | Price |
| 24 Everett St | 14 | 6 | 2f 1h | 2 Family - 2 Up/Down | $699,000 |